We know that continued growth and profitability are driven by how competitive a business is in its industry. Competitiveness is fueled by innovation. New or improved products, features, accessibility and affordability attract and retain customers. For this reason, many industry-leading businesses are hiring for innovation, forming dedicated teams to address and anticipate customer needs.
In our previous post, we looked at how to form an innovation team, but how can you tell if you even need to? Is it worth the investment right here, right now? Here are five indicators that can help you decide exactly when to hire for innovation:
1) Are you in a slump (or plateau)?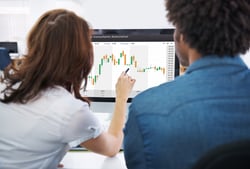 Many businesses are able to parade a single product, sell it effectively, and roll out updates or improvements to revitalize interest and use. But at some point, the leaders or investors behind that business are going to ask, "Why are we just keeping the lights on? Where's the growth?" At that point, the organization is likely going to need new revenue streams or a complete revisioning of the product(s) - both of which necessitate creative development or, in other words, the introduction of new IP. In these situations, it's best to bring in new minds for new ideas, or even just a change in perspective.
2) Do you have an Innovation Plan?
This question can be examined in two ways. First, the answer may be that the company doesn't have a plan yet. If that's due to a lack of direction or a starting point, an innovation team can help. On the other hand, the company may have a plan, which leads to a second question - have you done anything with it? An established business needs to dedicate resources to growth and to actually executing the innovation plan. Hiring for innovation can be the solution for either of these scenarios, especially in environments where it's "all hands on deck" to maintain and manage existing IP.
3) Are your employees excited? How about your customers?
If an organization can't pinpoint the last time a newly onboarded or seasoned employee expressed enthusiasm for getting the company's products into customers' hands, there's a problem. A motivated workforce is an effective workforce, and sometimes compensation alone isn't enough. Instead of trashing the entire team and getting new faces in house, it may be time to rethink and revitalize. That could mean a visual or brand change, or it could mean a product tweak, but either way it's something that an innovation team can help address.
4) What pace is the competition setting?
If a business hasn't sunk, it's relatively safe to assume that they're keeping up with the primary competition - for now, at least. But is there an advancement coming in the industry? Are there smaller fish that are rapidly becoming bigger, with no sign of slowing down? Is this organization prepared or able to react to a change that hasn't come yet? These types of questions are not only important for leadership to recognize and predict, they're questions that an innovation team can help answer. Plus, hiring for innovation can be enough of a push to establish your own business as the pace-setter and drive the industry.
5) Are you spreading your team too thin?
Some businesses already have R&D teams that are working at full capacity or even pushing beyond. In an idea-driven business culture, burnout is not uncommon. New ideas and solutions to problems often cannot be rushed and need some incubation time. Augmenting and supporting these workers with well-defined innovation teams can be a good remedy - offering clear direction, fresh perspective, and speeding up product cycle times.
Identifying when you should be hiring for innovation is going to be key to overcoming growth inertia. Your company should be dedicated to fostering the right environment to maximize IP productivity. Timing could be everything. Download the "Building an Innovation Culture from the Ground Up" eBook and make sure that your business is primed for innovation and growth.