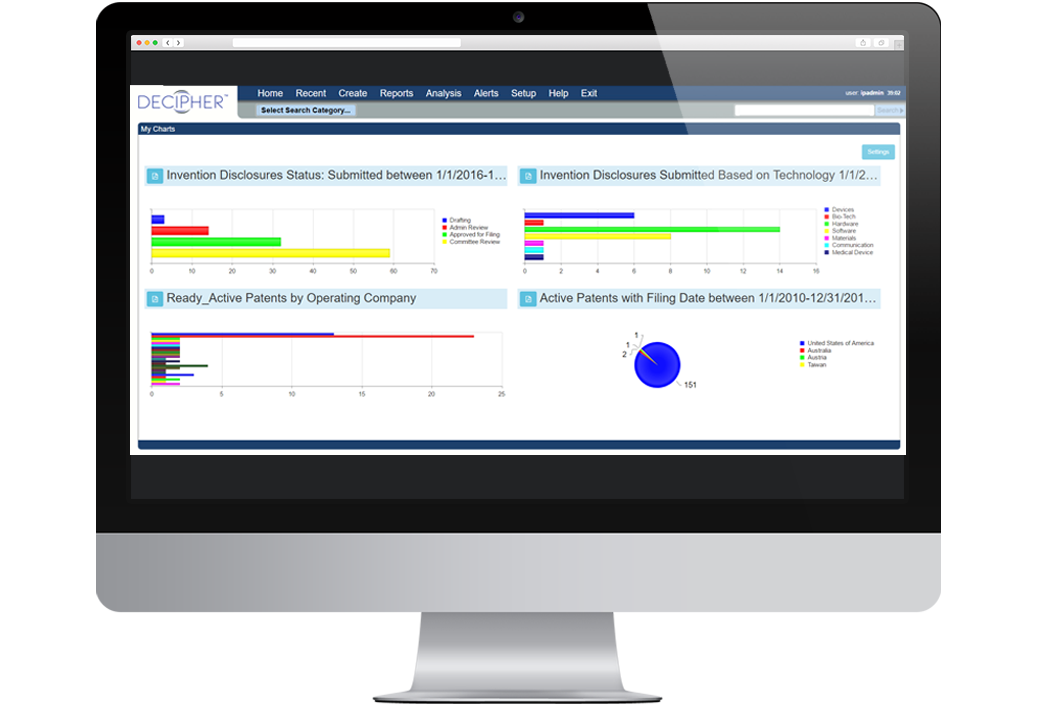 Decipher®
Decipher is an ecosystem of tools for accelerating innovation, gaining insight into your portfolio, and more effectively leveraging your intellectual assets. Manage your IP with excellence from ideation through commercialization with superior software - from the experts at Innovation Asset Group.
Our Solutions
Invention Disclosure
In order to remain competitive, it is more critical than ever to focus on innovation and speed. Accelerate your innovation pipeline with automated workflows, collaboration capabilities, and disclosure review processes - right out of the box based on proven best practices, or easily tailored to your way of doing things.
Learn More »
Portfolio Management
Leverage the full value of your intellectual property. Organize and catalog it, creating an inventory of your IP. Manage virtually any type of asset, see at a glance how it's deployed, and align IP with your business strategy - all while cutting administrative costs through increased efficiency and reduced reliance on outside counsel.
Learn More »
Legal Spend Management
The legal costs associated with intellectual property can be substantial, complex and difficult to control. Decipher gives you clear insight into these expenses. This enables you to see what you're getting for your money, eliminate wasteful spending and make better budgeting decisions.
Learn More »
Patent Cost Estimation
Get ready to run patent cost forecasts on demand. Whether you want to get the big picture or drill down to specific line items, our Patent Cost Estimation tool can provide reports tailored to answer your most pressing business questions. For example, customers have saved a lot of time and money with an ability to look at entire patent families and make better renewal decisions. Let the software crunch the numbers while you focus on the big decisions.
Learn More »