Intellectual property is a strategic asset for an organization, which when leveraged effectively, can provide lasting advantage. At each stage in your organization's journey, intellectual property challenges evolve and your intellectual property management strategy will also need to evolve. From securing your first intellectual property rights as a start-up, to perpetuating innovation in a mature organization, and everything in between, here's a look at how intellectual property challenges change as your company scales.
Start-up
When you first decide to take your big idea and turn it into a company, one of the initial concerns should be securing intellectual property rights for that concept.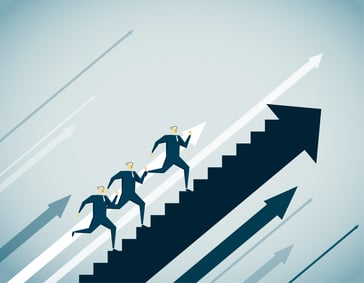 Securing intellectual property
Securing intellectual property rights can be challenging for anyone, but particularly for those unfamiliar with navigating the intellectual property law landscape. One of the biggest decision you will have to make at this point is whether or not you should work with a patent law firm. While the investment can seem substantial upfront, collaboration with experts in intellectual property law can be vastly beneficial to your business. These experts can help with both tactical execution as well as provide guidance on strategic intellectual property considerations, like timing and location.
Scaling
Once your organization has begun to grow in demand, many strategic business moves can lead to intellectual property challenges.
Leveraging IP effectively
Firstly, scaling companies can benefit from understanding the best ways to leverage their intellectual property for business success. Intellectual property can be used strategically by scaling companies to gain competitive advantage, to build sustained brand image, and to land investment.
Competition and IP infringement
As demand grows within the market for your offering, competitors will naturally begin to enter the market. At this point, intellectual property infringement becomes more of a threat for which your organization should proactively monitor.
Global expansion
For organizations looking to scale globally by entering new markets, intellectual property challenges can become complex. Typically, intellectual property rights are only valid in the location which they were filed and in some cases, timing of application can affect whether it is approved. Working with an intellectual property expert can help your organization understand these intricacies and file for protection in other locales.
Product offering expansion
A growth-focused organization will likely scale into multiple product offerings, which will then expand the size of the organization's intellectual property portfolio. As an intellectual property portfolio grows, the organization will need to become more focused on building supporting infrastructure to manage these assets. Intellectual property management systems, reporting, processes and teams become more critical.
Maturity
When an organization grows into maturity, intellectual property initiatives become broadly focused on the perpetuation of innovation and intellectual property success.
Perpetuation of IP success
Intellectual property success is a constant effort which requires regular monitoring and strategic flexibility. Using an intellectual property management solution can help your organization measure performance and allocate investment to optimize returns.
Continuation of innovation
Mature companies must continuously innovate in order to stay in the top of their markets. The continuance of the innovation cycle isn't always simple and requires actions from both leadership and employees. One of the best ways to ensure constant innovation is by building an innovation culture, which encourages and empowers all employees to innovate.

An organization will face many challenges as it scales from a start-up to a mature company. Intellectual property considerations can be particularly challenging as intellectual property assets are strategic and core to the organization's success. Learning how to mitigate these challenges effectively can help provide the organization sustained competitive and operational advantages. To learn more about how to mitigate intellectual property challenges as your organization scales, download this free ebook.