In order to boost innovation in your organization, leadership must enable employees with the right tools and technology. Though many may envision innovation tools as sticky notes and markers on whiteboards, there are many tools beyond the basics which can help drive innovation past the brainstorming stage. Here are some of the core types of tools and technology which can drive innovation at your organization:
Where to Innovate: Innovation Training & Frameworks
Using frameworks, like trend and market maps, employees can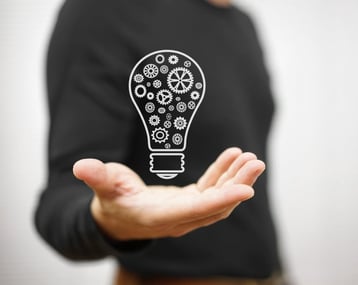 identify where in the industry there is need for innovation from customers. These tools and trainings on how to use them allow employees to view opportunities where they feel their ideas can make a difference and the organization would be well-suited to solve. Training and frameworks can also be used to streamline the innovation process once an idea is born by assisting the innovator in what step to take next.
Why to Innovate: Customer Feedback
Gaining meaningful feedback from customers or potential customers is core to being able to iterate innovations quickly. There are plenty of ways to get quick feedback. For larger organizations with greater accessibility to resources, feedback labs can be a perfect environment for a number of technologies (everything from designated testing computers, touch screens, or even eye tracking systems) that can assist with holding meaningful customer interviews. For scaling organizations or groups looking for feedback even more quickly, tools like UserTesting can allow you to grow the size of your group and provide feedback in less than an hour.
How to Innovate: Project Management
When an idea is being built into fruition and continuously being iterated, the team owning that project needs to keep track of the tasks associated with it. Though not used explicitly for innovation, a good project management tool, like Asana, can help keep organizational innovators on target by tracking deadlines, tasks, documents, and meetings.
Measuring Innovation: Intellectual Property Management
Now that teams are driving organizational innovation, it's important to benchmark its success. Innovations' performance can be measured as a whole by looking at number of inventions, the rate at which ideas are turned into product offerings, or ideas per employee. However, once these innovations are supported with intellectual property (IP), IP management software can easily present analysis on the success of IP assets so the organization can optimize investment into strategic innovation opportunities.

Providing employees with ample tools and technology empowers them to search for innovation opportunities, bring them to life, and drive value to the organization. Including an innovation toolbox in an integral component of building a successful innovation culture in an organization. To learn more about how to build an innovation culture, download this ebook.