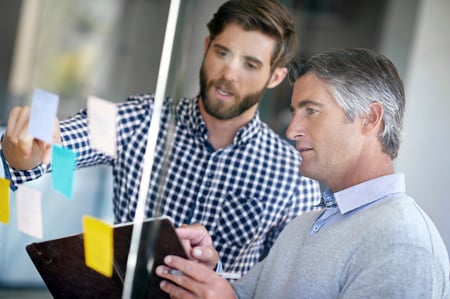 Even if you've built a collaboration team that's continually producing intellectual property (IP) and checking in on its status, it's important to know how innovation management software fits into the business process. The truth is that those types of software are analysis and enablement tools. Products like Decipher give both team- and organization-level leadership a view into employee productivity, financial information, and strategic direction.
Here are five scenarios where innovation management software makes an impact:
Employee Productivity
With the Decipher invention disclosure solution, management can keep tabs on whether their team members are meeting organizational production goals at regular intervals. The visibility works both ways, too; employees are able to check back in on their proposed ideas and see if they're progressing along the chain of approval. It's been shown that when inventors can track their submissions, they become more active participants in ensuring the can is getting kicked down the road. It is also true that when clarity is added to the IP management process, all stakeholders gain peace of mind and can comfortably move on to their next tasks.
IP Auditing
Innovation management software serves as a central repository for all information pertaining to an organization's IP. Having that structured system gives innovation team leaders an easy way to gauge the health of their portfolio by performing an IP audit. Informal portfolio "check-in" audits should be performed monthly at a minimum, and without strict categorization it can be difficult to quickly assess your IP's lifecycle stage, usage, ownership, and infringement risks.
Financial Tracking
Data on patent costs and revenue generated from IP can be readily available in your innovation management software. Decipher securely maintains historical data on your IP assets so authorized users can take stock in for purposes of shareholder reports, strategic budgeting plans, accounting or other financial needs. Decipher actually takes this activity a step further by providing users with a tool dedicated to patent cost estimation, which factors international costs, official fees, legal fees, and renewal costs into forecasting for different patent types.
Legal Spend Management
Innovation management software can help you focus resources in the event that you're faced with a patent infringement case. It does this by providing visibility into how resources are allocated and can break down comparisons of legal fees paid to outside firms: Who has handled certain issues for you in the past? With what results? Over what period of time? With what cost efficiency? Decipher not only helps you recognize those scenarios, but also help you deal with them. Legal counsel fees also factor into overall IP management costs, so you need a control panel where you can monitor these expenses. Examples include identifying well-performing and under-performing intellectual property so you can pinpoint which assets need follow-on protection or may be best to sell off. With Decipher, users can understand outside legal expenses for all intellectual property-related activities.
Planning for Future Innovation
Good innovation management software enables your organization to pick out its best opportunities for IP development and allocate resources accordingly. Additional data related to inventor success, development velocity, financial performance and other factors can power better and faster new invention decisions. Projects can be greenlighted more efficiently with concurrent reviews that rate, rank and score the most meritorious ideas, increasing quality as well as the quantity of your organization's innovation output.
If your business is leveraging intellectual property in any way, chances are high that you could use the data insights provided by innovation management software to enhance your team productivity, reduce time to market, increases in IP utilization, and contain costs for your protectable assets. For more tips and recommendations on leveraging data in the IP management process, click here to download a free eBook on the topic.