Free eBook: Using Data to Influence Intellectual Property Management Strategy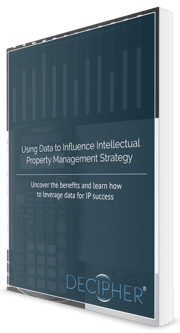 Data is a critical component to building an effective intellectual property management strategy.
This ebook will outline the benefits of using data in intellectual property management and how you can begin to collect critical datasets. Uncover the benefits and learn how to leverage data such as:
Time— Monitoring the time it takes to complete each step or drop off rate of an asset's progression can identify where bottlenecks are occurring and why.
Labor— Data can indicate where the organization could be over or understaffing. Optimizing labor resources can free up the IP team's time to focus on strategic development and revenue opportunities.
Costs— Monitoring legal and administrative expenses can help the organization to better manage and reduce costs, in some cases by up to 75%.