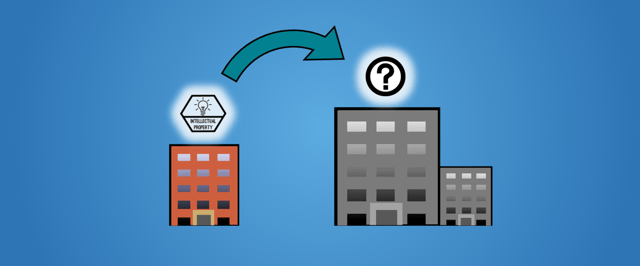 Sometimes circumstances outside of our control lead to business closure, the unwinding of strategic partnerships, sudden cost reductions, or all of the above. In the various situations where a company is facing divestment, it tends to be expedient to "throw the babies out with the bathwater" with little regard for the intellectual property. This is a potentially massive error. Aside from possibly losing out on more value, overlooking IP in a divestment situation can lead to myriad forms of litigation - from shareholders, licensees and licensors, vendors and suppliers, and the very business organizations or partnerships you're shedding. It's safe to say that intellectual property management plays as significant a part at IP termination as during IP inception, growth and maturity. Consider the following in order to mitigate some of these concerns.
The IP Transaction Documents
It's as important to inventory IP that's leaving as that which you retain. This relates to risk as much as to value. For example, you don't want to inadvertently sign away or fail to retain rights that are connected to any products, services or obligations without a full review. The ultimate disposition of the IP could be subject to negotiation. Matters related to value, breadth/scope of rights, assignment, duties and responsibilities, and indemnification, among other topics, must be considered. Any agreements surrounding what happens next for IP must be clearly articulated and put into writing.
Think about information security in divestment scenarios as well. Be sure to have proper nondisclosure and related protective mechanisms in place during any negotiation process. Do this by ensuring such mechanisms already exist or, if not, drafting new ones.
Identify and Define Encumbrances
Disclosing how IP assets are tied to license arrangements or other entities and stakeholders will be important to establishing trust and setting an appropriate price or outcome. The divesting company should clearly indicate what agreements are in place and the associated costs and obligations. There could also be interested third parties, reach-in or other contingent rights, collateralization or other pledges of IP rights, as well as obscurity with assignments. These should all be clarified.
Evaluate the IP's Value
You can get a read on value by applying "standard" cost, income or market methods, deriving reasonable royalty rates as you would with any transaction, and through basic negotiation. Consider, however, other implicit indicators: Is a particular IP asset or family of assets critical to the entire portfolio? Are they connected to diverse product lines or license arrangements? Are these assets in an early stage? Are they deployed or collecting dust? Are they about to expire? Should they be renewed? These issues have value relevance. There might also be alternative liquidity opportunities through licensing or other mechanisms (donations for tax credits, for example). You must audit at least to the baseline of a simple inventory to get the insight you need to make the best decisions.
Go Beyond Your Legal Team
Legal counsel is critical in divestment activities, but their scope is limited. Experts in the technology field and industries to which the intellectual property relates or could have value should be in the mix as well. Members of your innovation team or others from within or outside your organization can augment the lawyers in a positive way and add value to this exercise.
Establish Duties and Responsibilities Post-Transaction
In divestments there are often residual responsibilities and obligations. Be prepared to address such things as:
Who will measure any required performance metrics, earn-outs or other milestones?

Who is responsible for interim maintenance issues, annuity payments, etc?

Is there any know-how that's needed to enable the IP? If so, how is that knowledge going to be transferred, valued and paid for?
This is meant to serve as a general guide for companies relinquishing, downsizing or cutting costs out of their IP portfolio. If you're interested in the converse - addressing issues as you scale with your IP - we have a guide for you. Click here to download the eBook, "Mitigating Intellectual Property Challenges as Your Organization Scales," for free right now.
Information Sources:
Dilanchian, Noric. "World Intellectual Property Organization." IP and Business: How to Successfully Buy or Sell a Business with IP Assets. WIPO Magazine, Aug. 2008. Web. 06 Sept. 2016. <http://www.wipo.int/wipo_magazine/en/2008/04/article_0008.html>.
"Intellectual Property M&A Services." Intellectual Property M&A. IP Offerings, n.d. Web. 06 Sept. 2016. <
http://www.ipofferings.com/intellectual-property-m-a.html
>.