From startup to maturity, intellectual property can be a valuable asset to leverage at any stage in your company's life. Leveraging intellectual property assets successfully can help your organization build and sustain effective product strategies over the long-term. This article will look at the ways your organization can leverage intellectual property at each stage of its journey:
Startup
For startups, securing intellectual property rights can be a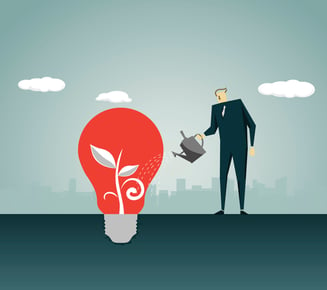 powerful step in getting their product(s) off the ground and building overall value. For starters, intellectual property rights can be used as a marketing tool, to build brand recognition and a reputation for innovation. A patent, or even a patent pending, for example, could allow the organization to use messaging like "the first," "the best," or "the only" to competitively set your offering apart. Similarly, trademarks can be used to protect the brand assets you've created, like your logo, and copyrights can protect the originality of your expression such as product and services collateral, website copy, etc..
Another impactful way to leverage intellectual property at the startup stage is as a tool to secure investment. An intellectual property portfolio, however small, represents a protectable basis upon which to grow and is attractive to outside investors.
Scaling
A scaling company can use its intellectual property to build sustainable competitive advantage. For example, diligent presentation of intellectual property in marketing is perhaps the most straightforward way to establish a scaling company as a market leader. As an additional benefit, a company's bolstered image and market position gained from intellectual property can have the effect of deterring or slowing down would-be competitors. Similarly, intellectual property rights enable you to protect your market share, stop or remediate infringements, or horse trade in highly competitive industries, all of which is critical to defending brand recognition and perceived quality.
Expanding product lines by leveraging existing intellectual property is a great way to boost a scaling company as well. Constant assessment of core competencies and specialized knowledge can help create further innovation and portfolio pieces that work together, closing gaps and repositioning a company and its products strategically. Treating intellectual property rights as building blocks is a natural way to facilitate company growth and product line expansion.
Maturity
Once an organization reaches maturity, intellectual property can be leveraged strategically to contain costs and drive more revenue growth. For example, regular analysis of intellectual property data can identify which assets are performing well and which are underperforming. Armed with this data, the organization can divest wasting assets and create new revenue streams by out-licensing some intellectual property. The company can also flexibly swap investment for more fruitful offerings and pair together product offerings which perform well together. This level of analysis can help control and optimize a mature organization's product and IP asset portfolio over the long-term.

When leveraged effectively, intellectual property can be a key value and growth driver at any stage in an organization's life. However, intellectual property challenges also come with growth. This ebook outlines different challenges your organization may face as it scales, and how to mitigate them.