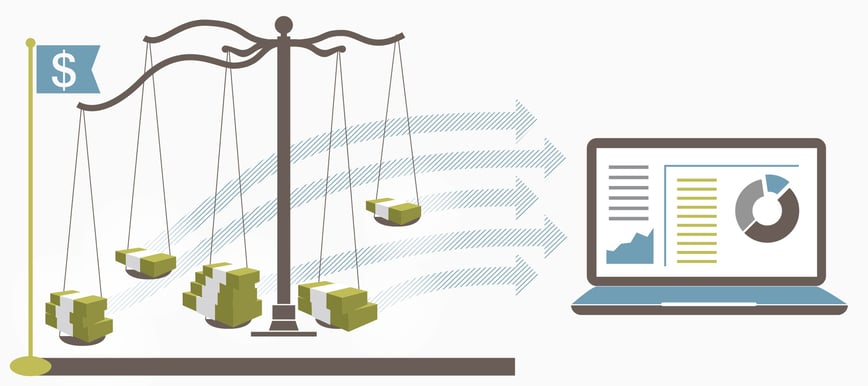 The intellectual property experts here at Innovation Asset Group are constantly looking for new ways to deliver value to the market; we love putting out fires in the IP space. One behemoth of a problem we've now addressed is the disconnect between in-house corporate legal and accounting professionals on the one hand, and the outside law firms they dispense dollars to on the other. It is difficult at best for companies to understand how much they're paying in outside legal fees and the benefits they're realizing (or not). We've solved this by leveraging the LEDES billing standard.
In the mid-1990s, a consortium comprising the American Bar Association, the American Corporate Counsel Association, and a group of major corporate law departments and law firms coordinated by Price Waterhouse LLP, developed a standard set of task, activity and expense codes for use in the legal industry. In a parallel effort to streamline the transmission of this information from outside firms to their corporate clients, Price Waterhouse convened a group of leading vendors in the field of legal case management and time & billing systems. This led to the creation of a standard data transmission format - the Legal Electronic Data Exchange Standard (LEDES).

These efforts were undertaken to bring efficiency and billing analysis capabilities to law firms and the companies they serve. The LEDES standard is well accepted and continues to evolve and improve. The guiding principles of the standard are to keep it simple, unambiguous, similar to existing formats, limited to financial data, and meet the legal billing needs of corporations and the legal industry.
We're excited about our Legal Spend Management tool and we think you will be too. It takes billing information submitted by outside counsel using the LEDES standard and gives you a world of knowledge about where and how your money is being spent. It's available through the Decipher® intellectual property management software solution.
With its efficient coding system, LEDES cuts down on the time outside law firms spend on task descriptions and invoice creation. Decipher Legal Spend Management then takes that data and empowers you to control your costs by viewing those services in proper context.
Instead of you or your bill reviewers spending hours interpreting the information in multiple invoices, your outside counsel can provide you with a single file at intervals you choose - using any LEDES-compliant case management tool they wish. The file will be coded with information regarding particular matters, amounts, descriptions, related matters, individual timekeepers, and more. When the file is received, the Legal Spend Management tool imports and parses the data, displaying it to you as a clean financial summary for any relevant matters you are interested in, and enabling you to create detailed reports.
Imagine, in just minutes instead of hours, weeks or even months, being able to:
Create a master report showing all costs and activities performed by all firms for all outstanding patent cases
Create individual reports broken down by patent asset, law firms, tasks performed, individual timekeeper, and more
Compare the time efficiency of various firms for similar work performed on your behalf, such as:

Application drafting

Preparation of Responses to Office Actions

Communications with you on a given matter

Patentability, Validity and Clearance investigations

Costs passed through

Identify the most efficient lawyers, paralegals, researchers and assistants at your various outside law firms

How many Office Actions before allowance?

How many final rejections?
Take control of your legal spend. Decipher helps you make sense of where your money is going and how efficiently it is being used. You can make smarter resource allocation decisions based on powerful insights delivered to you in a few mouse clicks. Your intellectual property is valuable. So is your time.

---
For more information about our Legal Spend Management solution with Decipher, please request a product demo or click here for a detailed features list.