Every day, enterprising inventors worldwide dream up new ways to solve seemingly intractable challenges. Their ideas have the potential to bring about profound cultural shifts and overcome global problems.
Lack of access to clean water is one of the most pressing — especially in developing countries. 780 million people worldwide do not have access to a clean water source and more than 3.4 million people die as a result each year.
For poor countries, traditional filtration systems can be too expensive to be practical. Cheaper solutions like iodine or chlorine tablets can be effective in killing bacteria, but involve the ingestion of chemicals and change the taste of the water, making it undesirable to drink. Enter seven new technologies leading the effort to make clean water accessible to all. The impact of the following technologies on public health and economic output could transform the lives of millions.
LifeStraw®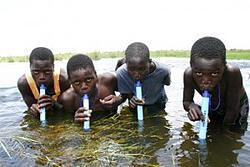 LifeStraw is a personal, mobile water filtration tool. As you sip from the straw, it purifies the water using a super-fine filtration process. This process removes 99.9999% of waterborne bacteria, including dangerous pathogens like typhoid, cholera, dysentery, and more — all before the water reaches your lips. Amazingly, it does all of this without the use of foul tasting chemicals like iodine or chlorine.
In addition, it requires no electrical power, batteries, or replacement parts to operate, which makes it perfect for remote or less developed areas. It allows one person to make surface water safe to drink for up to a year and costs just $5. At a higher price point of $25, the Life Straw Family product provides enough safe drinking water for a family of four for three years. Life Straw's low price, ease of use, and portability truly make it a viable option for solving the clean water problem.
SlingShot™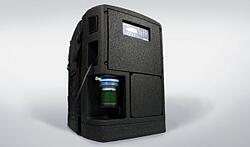 SlingShot is a clean water solution developed by Dean Kamen, the inventor of the Segway. Although the device runs on electricity, it is incredibly efficient, using a closed loop design that preserves energy through a heat exchange. Additionally, it can be powered by a generator that runs off of cow dung, making it more practical for the developing world.
It can purify any dirty water (even sewage water!) and produce 1,000 liters of drinkable water daily — enough for 100 people. In addition, the SlingShot generates small amounts of electricity, which can light up energy-efficient bulbs for a small village. Although SlingShot boasts a much higher price point of $2,000, micro-financing and international aid may make it possible for small villages to gain access to this exciting new technology.
Watch Dean Kamen present the SlingShot »
Midomo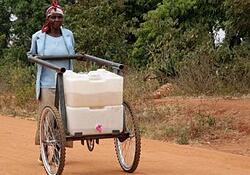 The Midomo design arose as a response to a statistic that people in Africa walk an average of 3.7 miles each day to collect water. As a result, its inventors created a wheeled system whereby as the water is transported, it's transformed into clean water by an internal ceramic filter system that's powered by the rotation of the wheels. It can carry 50 liters of water at a time and because it's on wheels, men and women no longer have to carry large quantities of water on their backs.
Red Button Design, the creator of the Midomo Water Purifier, plans to eventually have the Midomo manufactured, assembled and repaired locally in the communities where it will be used. They believe that this is the most sustainable, affordable way to ensure the water purifier's long-term use and adoption.
Lifesaver® Bottle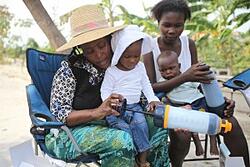 The LIFESAVER bottle arose out of the Stellenbosch University Water Institute HOPE project. It's the world's first water bottle to remove all microbiological waterborne pathogens, without foul tasting chemicals like iodine or chlorine or the need for any power or UV light.
Its patented technology filters water down to 0.015 microns instantly, using activated carbon and nano fibers. It's easily operated using a small pump within the bottle and it purifies up to 6000 liters per use. Inside of the reusable bottle is an inexpensive, replaceable tea-bag style water filter, which costs less than a half a cent. Like the Life Straw, the Lifesaver bottle's low price point and portability offer a feasible, convenient solution for access to potable water.
Solarball
The Solarball was developed by an industrial design student at Monash University in Australia, after noticing the lack of clean water on a trip to Cambodia. When placed in the sun, the Solarball uses evaporation to separate dirt and contaminants. The resulting condensation yields 3 liters of potable water each day when placed in direct sunlight. The ball is inexpensive and small in size, making it easy to transport. However, due to its low water output, it's practical use might be more limited than higher yield solutions.
Check out a video of the Solarball »
Life Sack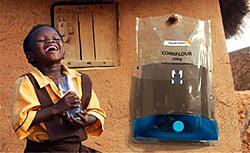 Life Sack is an idea developed by a group of Korean industrial designers, which repurposes grain sacks as water purifier kits. To filter the contaminated water, the Life Sack uses SODIS (Solar Water Disinfection Process) technology. Essentially, UVA radiation and the bag's thermal treatment process work together to kill deadly microorganisms and bacteria in the water. For convenience, the Life Sack can also be worn as a backpack so water can be more easily moved from the source back to the community.
Nanoparticle Technology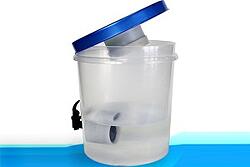 Researchers at the Indian Institute of Technology - Madras have recently developed a purification device that filters water through a specially crafted mixture of nanoparticles to remove harmful bacteria, viruses and other contaminants.
The device is capable of producing 2.6 gallons of safe drinking water per day and its affordability is remarkable. According to researchers, the device may be able to deliver clean drinking water to rural communities for less than $3 a year per family.
It's currently being tested in communities in India and if the test results demonstrate reliable performance, this yet unnamed device could be a game changer.
Great inventors are, by nature, problem solvers. When their talents are put toward ideas for good, the possibilities are truly endless. Which of these technologies is most exciting to you? Let us know in the comments below and stay tuned for more articles from our Ideas for Good series.
*All trademarks used belong to their respective owners. Innovation Asset Group is not affiliated with them and all information provided comes from publicly available sources.

Peter Ackerman
Founder & CEO, Innovation Asset Group, Inc.