The high cost and growing scarcity of resources have required clean tech companies worldwide to put on their thinking caps—inventing new solutions to help individuals and businesses maximize the resources available, better manage their costs and minimize their environmental impact.
2014 was a good year for clean tech, with several innovative companies worldwide finding impressive market traction and experiencing phenomenally successful financing rounds. From biofuels and waste treatment to energy management tools that utilize the power of the web, cleantech is a category on the rise—one where innovation is consistent and adoption is inevitable.
Here's a look at a few technologies that are helping to drive this ever-expanding market category.
1. Next Generation Plastics
An Amsterdam-based company called Avantium has developed a unique sugar-to-furanics technology that will allow for the easy and inexpensive production of bio-based PEF plastics that can replace most petrochemical materials, like those used in bottles, films and fibers.
Their renewable chemicals have drawn impressive financing ($50 million) that will allow Avantium to build their firstcommercial PEF scale plant. They are also gaining traction with some of the biggest consumers in the plastics industries, like Coca-Cola and Danone.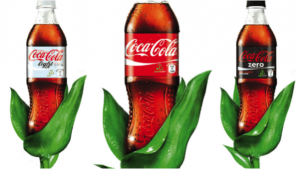 As this technology offers the potential to replace many petrochemical materials with renewable feedstock, it could be a game changer for consumer packaged goods manufacturers, among others. For this reason, Avantium is definitely a company to watch.
2. Robotics Technology
Robotics technology is quickly gaining traction in the clean tech space, with more and more companies finding new, cost-saving, energy efficient applications.
QBotix is one example. They've create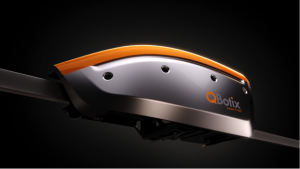 d a technology called Solbot that's designed to optimize the productivity of solar panel plants. The system relies on autonomous, mobile robots that automatically adjust the positioning of solar panels in real-time to ensure that the maximum amount of energy is retrieved through each solar installation. They are dustproof, waterproof and can operate in extreme conditions, allowing for impressive durability and the ability to last over the 20-year plus lifespan of a solar installation.
Another example is Finland's ZenRobotics, a developer of robotic recycling systems that use artificial intelligence-enabled waste sorting.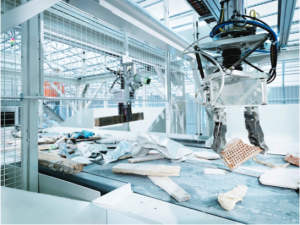 Released in November, the ZenRobotics Recycler (ZRR) device reclaims valuable raw materials from waste with the help of advanced machine learning technology. It uses multiple sensors (like visible spectrum cameras, NIR, 3D laser scanners, haptic sensors, etc.) to create an accurate real-time analysis of the waste stream.
Based on this analysis, the system makes autonomous decisions on what objects to pick and how. It is the world's first robotic waste sorting system and offers enormous potential to reduce waste within the construction and demolition industry.
3. Dynamic Windows
Buildings are the largest source of energy consumption in the world—and energy lost through today's inefficient window stock accounts for around 30% of the heating and cooling energy expended in buildings in the U.S.
Dynamic, smart windows manufactured by SageGlass, Pleotint, and View Inc. offer convenient solutions to this problem. Their technologies give commercial building managers the opportunity to better manage energy consumption and preserve heating resources with virtually zero effort.
For our purposes, we'll focus on View's energy-efficient Dynamic Glass. View's windows tint electronically in response to the outside environment, helping to control the inside temperature of commercial buildings. The glass can be programmed to adjust different facades of the customer's building at different times of the day. Additionally, when the sun moves or the weather changes, View's algorithms can predict it and change the window tint automatically.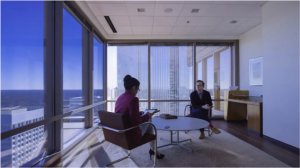 These windows are powered by electrochromic technology, in which a low-voltage electrical current is applied to the window to change its color in order to reflect or absorb light. This tinting can cool or warm a room—helping save energy by cutting down on air conditioning and heating. According to their CEO, Dr. Rao Mulpuri, View windows can save 20% on heating and cooling system costs, 20% on lighting costs and can reduce peak load by 25%.
View Dynamic Glass has already been featured in 145 projects across North America and offers a great way for commercial buildings to earn LEED points, while saving on energy costs.
4. The Connected Home
UK-based company, AlertMe, has developed a smart energy and home monitoring system that allows users to control energy usage in all appliances. Their system enables users to connect to their home's broadband and remotely controlled household devices, helping them cut their domestic energy consumption and costs.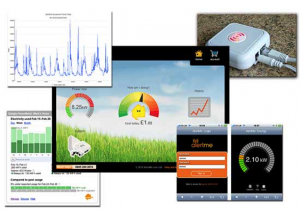 They already serve over 500,000 homes in the U.S. and U.K., connecting over 50 devices from 22 different brands into a single home ecosystem. Providing personalized energy analytics, their technology helps smart meter and pre-smart meter customers understand their energy bills and how to save. Then, using dynamic data such as weather and home profiles, the system delivers personalized customer energy reports, both online and offline.
The AlertMe system also offers improved energy control—allowing for connected control of home heating, cooling and hot water so that customers can remotely monitor and control their home comfort. It can also connect to boilers, thermostatic radiator valves and under-floor heating—offering a streamlined approach to managing energy consumption throughout a customer's entire home.
5. Intelligent Energy Storage
Based in Millbrae, CA, Stem provides energy optimization services that combine big data, predictive analytics and energy storage to reduce electricity costs for businesses.
They can deliver significant electricity bill savings through their integrated solution of cloud-based predictive software and advanced energy storage. Their system reduces peak loads, predicts their customers' energy usage patterns and deploys stored energy (through their battery system) at precise times when electricity costs are highest—with no change in business operations required.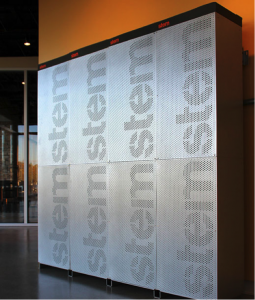 Stem is well-financed —with their last equity financing round topping out at $27 million, plus another $935k through the U.S. Department of Energy's SunShot Initiative. They also have strong partnerships in place with companies like Kyocera, Adobe and numerous utility companies nationwide, which will no doubt help to speed up widespread adoption.
While this is just a glimpse into a few notable technologies, new clean tech innovations are seemingly emerging every day—offering the possibility to change the way we consume energy, alter our definition of "waste" and help us maximize our resources, potentially for years to come.
Peter Ackerman
Founder & CEO, Innovation Asset Group, Inc.