Download the ROI study: How Corporations Save Time and Costs by Implementing Decipher® IP Management Software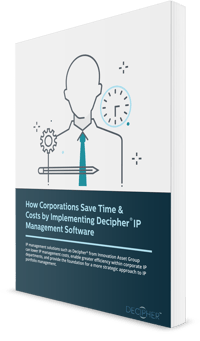 We know that technology can improve our work processes in different ways. What about the innovation process?
In this study, we measured the impact of IP management software on corporate innovation workflow. The results blew us away. We discovered massive time and cost savings in various stages of the invention disclosure process, including Submittal, Completeness Review, and other review stages prior to patent application.
See the results for yourself to get an idea of what your business could save after implementing Decipher.
Please note that we respect your privacy and will not share your email address or any other information about you with anyone.